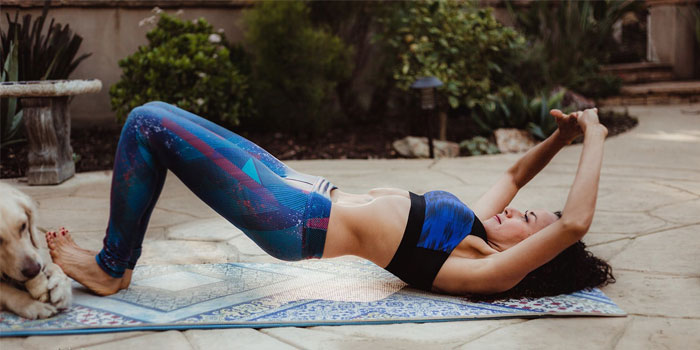 Exercise is a healthy activity for everyone, from kids to teenagers and adults. It not only keeps us physically fit but also mentally strong and healthy. Between the age of six to 17, children need at least one hour of physical exercise as they enter teenage and they have to go through a lot of changes both physically and mentally.
There are many benefits of physical exercise that makes your brain feel good. It helps you to:
1.       Reduce stress
2.       Boosting energy
3.       Increasing self-esteem
4.       Improve sleep
5.       Reduce symptoms of anxiety and depression
6.       Improve performance
Whether you are a parent or curious teenagers who are looking for some easy to do exercises, in this guide, you will find out regular exercises that will make you feel relax and easy throughout the day.
Let's quickly have a look at some of the amazing exercises.
Yoga For Anxiety
Yoga is one of the best things to relieve anxiety. It moves towards the sympathetic nervous system. According to the research, mindful movement and breathing did in yoga always helps you to feel relax and at ease.
Yoga increases the level of GABA. Basically, GABA is a neurotransmitter in the brain that relaxes your mind. As per the study, people who walk or do yoga three times a week showed a greater increase in GABA that helps you to improve the mood and relief anxiety. And in a result, yoga has become an important skill for teens.
Yoga For Mental Health
Here are top yoga poses that are perfect for teenagers to do every day in the morning. Be relaxed, flexible, and try these poses at your home.
1. Hero Pose
Hero pose helps you focus on your breathing.
v  Just get into the kneeling position, your knees should be together, and your feet should be wider than your hips.
v  The top of your feet should be on the floor.
v  Keep your hands on the thigh
v  Sit straight to open the chest and lengthen your spine
v  Do this for at least five minutes.
2. Triangle Pose
Triangle pose can help you to ease your tension in your neck and back. What you have to do is:
v  Stand straight with your feet wider than hips
v  Face your left toe towards the right slightly
v  Lift your arms and extend your shoulder and your palms should go down with your face.
3. Fish Pose
Through this pose, you can tightness your chest and back. To do this:
v  Sit with your leg
v  Keep your hands below your buttocks
v  Squeeze your elbow together
v  Press your arms to lift your chest
v  Continue this for one minute.
4. Child's Pose
This pose is good to ease the stress and keep you fit.
v  Take a kneeling position; sink back onto your heels.
v  Stretch your hand and rest your forehead on the floor.
v  Hold it on for five minutes.
5. Standing Forward Bend
Standing forward bend is perfect for relaxing your mind while releasing tension from the body. To do this:
v  Stand straight; keep your hands on your waist
v  Move forward and slightly bend in your knees.
v  Drop your hands to the floor
v  And continue this for one minute.
Breathing Exercise For Relaxation
Breathing exercise is one of the effective tools to calm your nervous system as it takes a short time and gives a great result. Now, you might be thinking about how it helps in relieving your stress. So, let's first discuss what square breathing is. It is also called four-square breathing, and box breathing is perfect for teens to go to relaxation. What you have to do is:
Sit straight on the chair, hands on your lap, and feet on the floor.
Inhale slowly through the nose, and allow air to fill the belly
Hold the breath
Exhale slowly through the mouth
Continue this two to three times to relieve your stress.
Meditation
Meditation is nowadays the best practice for relieving stress. There are many benefits of meditation that includes help decrease anxiety, depression, stress, and improve quality of life. This is good for teens as well as kids and adults. Here are some basic meditation techniques that one must know.
Sit quietly, deep breath, and close your eyes
Breathe in and breathe out – just focus on inhaling and exhaling.
If any thought is disturbing you, then just consider it as a thought and continue with your meditation
After that, continue your breathing slowly and gradually.
Do it as long as you want.
Jogging
Next, jogging is the best exercise for everyone, whether kids, teens or adults. Even older adults should continue this practice to stay healthy. Jogging not only refreshes the mind but also makes us relive from anxiety, stress and depression. What you can do is use headphones, play on music, and just jog in the morning or evening for some great time.
Cycling
Cycling early in the morning is the best choice to relieve your mind from all the distraction. Go to the area that is peaceful for fitness cycling. Make sure to stay away from the pollution, but cold air, plain road and a beautiful time for you only.
EFT Tapping For Anxiety Relief
Emotional Freedom Technique (EFT) tapping is an alternative treatment of physical pain. People believe that tapping helps in creating balance in your energy. It can be a peak point, especially for those who are gone through an emotional cause. Basically, all these anxiety relief points are based on the minds of a person.
"A person who is facing depression can come out from this in their own way. They can try some meditation, yoga, or daily gym equipment exercise. It totally depends on them, how they treat themselves through such activities".
It means EFT tapping will only work if you think that it will help you out to recover yourself. Stop overthinking, just exercise to refresh your mind.
Body Scanning
The body scan is one of the great ways to practice mindfulness meditation. Basically, it is done to reconnect your physical self. The body scan is not for body relaxing, but it is done for mind refreshment. This is something more fascinating for your mind to keep present all the time.
Muscles Relaxation
There are some best muscle relaxation techniques that will not only make you feel fit but also fantastic. You might be aware of muscles groups that include:
Lower arms that are tightening the fit and pull them up
Upper arms for tensing the arm
Lower legs for pointing the feet up
The thigh that is pushing the legs together
Eyebrows pushing them together
And many others that are good to continue on your best. After that, focus on your breathing that will keep you and your muscles relax.
Laughing To Relax Mind
Another great practice is to laugh. Laughing is a great therapy that not only makes you feel happy, but it will allow you to enjoy your quality time with your family time. Laughing with family or friends throws out all the stress and makes you easy throughout time. So, whether you are happy or sad, take out some time to laugh and have fun.
Stretching Exercise
Lastly, stretching exercise will always be an efficient choice for teenagers. Just take out at least one hour from your schedule early in the morning and stretch your body with some amazing exercises. By stretching your body, you will feel not only fit but also mentally fresh all the time.
Conclusion
Above explained, simple and easy exercises for teenagers will help you to stay fit and healthy without stress and anxiety.
You will definitely enjoy doing these workouts at your home or backyard or garden to feel fresh. So, what are you waiting for? Just pick any of the above-shown practices and keep your mind relax and easy. It will be beneficial for all the kids who are now in the phase of teenagers.
Author Bio
Liza Brooke is a Sr. Research Analyst & Lifestyle Blogger at Dissertation Assistance. She has also worked for providing dissertation writing services UK to the students. Apart from this, she has an interest in sharing her thoughts about the health industry. She also worked as a yoga trainer for five years, and still, she believes in such practices.