Besides being an excellent addition to your backyard, your pool can help you stay fit and healthy without the need to leave the comfort of your home. Exercising in the water burns fat and keeps your muscles strong and healthy, all while providing you with infinite amounts of fun!
Of course, just like any other type of exercise, you'll need a good routine to make it as effective as possible. So, in this article, we're going to bring you some of our favorite swimming pool exercises and routines to help you get fit at home!
Let's begin.
Walk in the water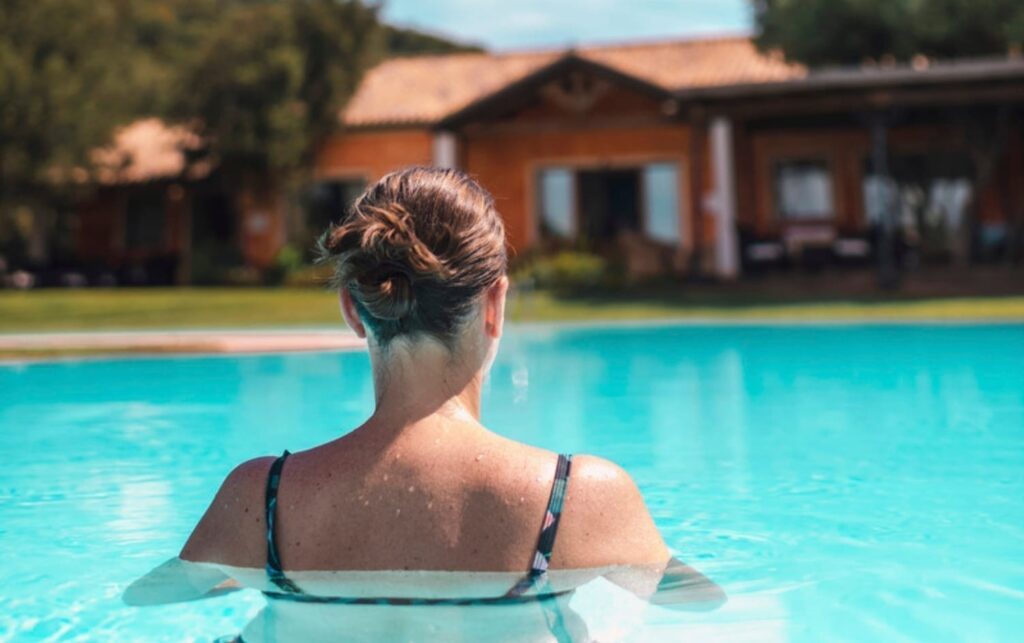 As odd as it may sound, simply walking around your pool is a perfect place to start your workout routine effectively. It targets your lower body and your core while also helping you to get ready for other complex exercises later on. Besides, it harder than it might seem! After only a couple of minutes, you'll feel the water-resistance put a real strain on your muscles. We suggest you start from the shallow part of the pool, then slowly going deeper and deeper. Pay close attention to how water resistance feels in different phases of your walking routine, and use that knowledge to create an optimal exercising routine afterward.
While walking inside of the pool doesn't seem incredibly exciting, you'll quickly start feeling some muscle soreness if you do it for long enough. If it still feels too unchallenging for you, increase the intensity of your workout with some ankle weights.
Swimming!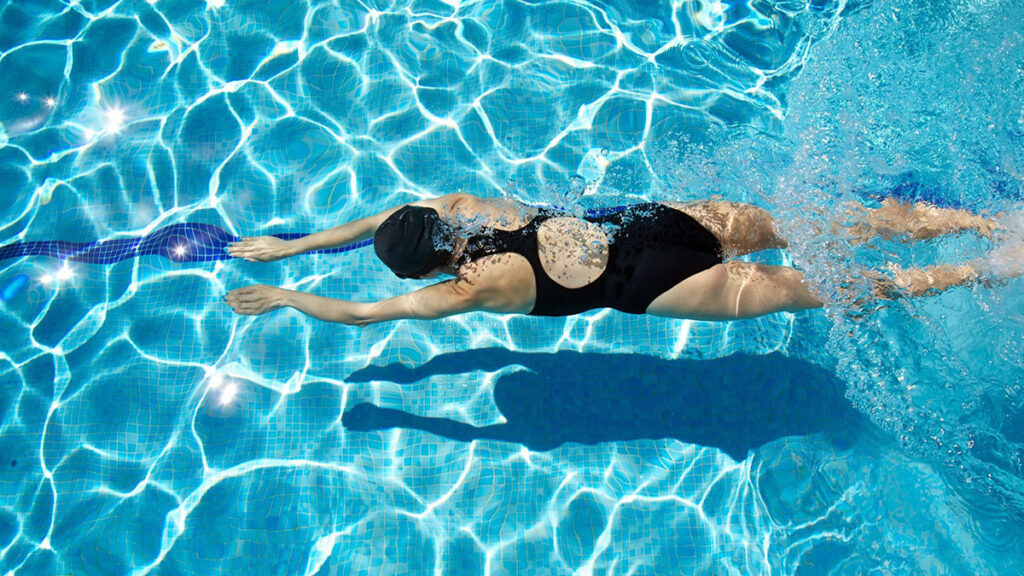 You'd have no use for a swimming pool if you couldn't, well, swim in it! Swimming is not only relaxing and healthy, but it's also an amazing way to burn calories and get fit in no time whatsoever.
Learn different swimming techniques (yes, there's more than just one way to swim!) for the best possible results and variety in your workout routine. If you're not feeling it throughout your entire body, you're probably doing it wrong.
Of course, even if you may not notice it, exercising in water will make you sweat a lot more than you'd expect. So, do not forget to drink a lot of water while exercising, especially if it's extensively hot outside. Also, apply protective sunscreen and avoid exercising during extreme temperatures to ensure maximum safety during your workouts.
Invest in weights for intense workouts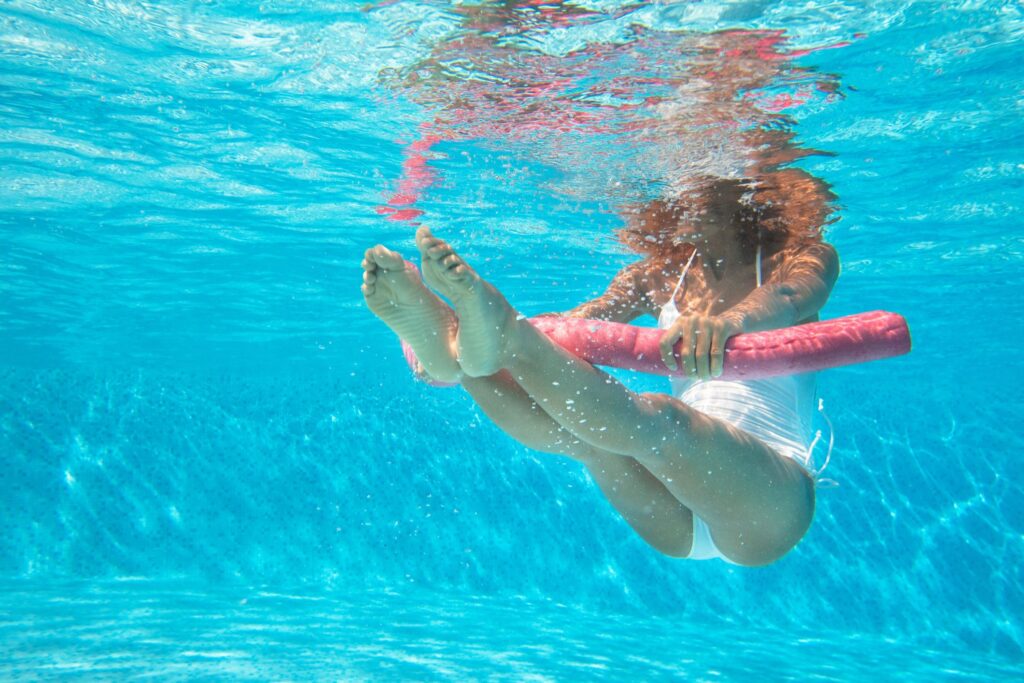 If you're already an active person, regular aquatic exercises might not quite do the trick for you. Since you won't have to deal with gravity while in the water, you might get bored after a couple of regular strength and cardio exercises, which is, again, perfectly normal if you usually enjoy intense workout sessions instead. If that's the case for you, no need to worry! There's still a way to spice things up a little bit: investing in proper workout equipment! That includes ankle weights, wrist weights, foam dumbbells, resistance gloves, kickboards and so much more.
Now, depending on which part of your body you're putting your focus on, you can choose from many different types of weights and workout equipment. Make sure you do your research and find quality suppliers to help you get the best out of the experience. Again, these weights and exercise enhancements should be built specifically for aquatic exercise. Your regular equipment might go rusty if it stays in the pool water for too long, so be careful.
If you're still debating over which type of pool to choose, go with a plunge pool!
If you're a future pool owner looking for the best ways to utilize it once it's finally built, we suggest you look into plunge pools while you're at it, especially if exercise is one of your main goals. As noted on compassnewcastle.com.au, plunge pools are perfect for people looking for a mixture of relaxation, leisure, and exercise when it comes to their swimming pool. Of course, we're not saying it's the only "good" option out there. You can exercise in any type of pool, but plunge ones are an excellent choice if you're looking for something workout-specific.
Of course, make sure you get reliable pool builder services to install it for you. Choose a simple design for maximum mobility and exercising capabilities, and if your space and budget allow it, go as large as possible.
Watch exercise tutorials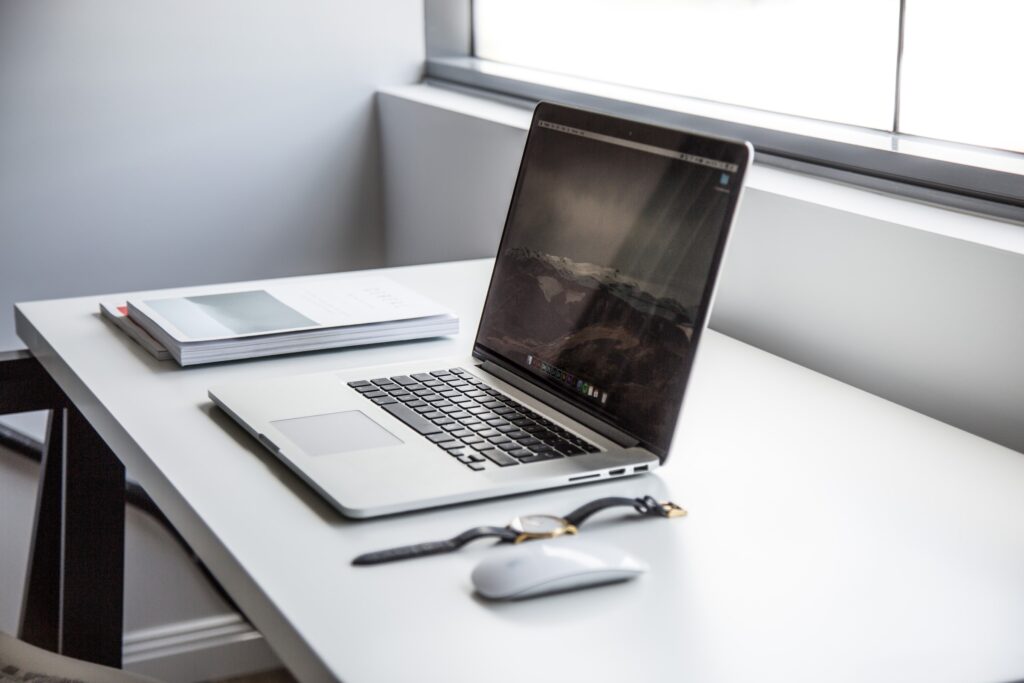 Now, we can go on about different types of exercises and how to do them in your pool, but checking out different aquatic workout tutorials online might be the best possible solution out there. Following a personal trainer can help you do the exercises effectively and decrease the risk of unnecessary injury. Besides, if you're trying to lose weight, you can always benefit from the lifestyle advice these trainers offer.
Again, exercising in your pool should not be anything complicated, but if you haven't been actively working out for a while, it's always better to refresh your memory and start things slow. Don't overdo it at the beginning, and be careful not to accidentally injure yourself while you're working out.
Do it regularly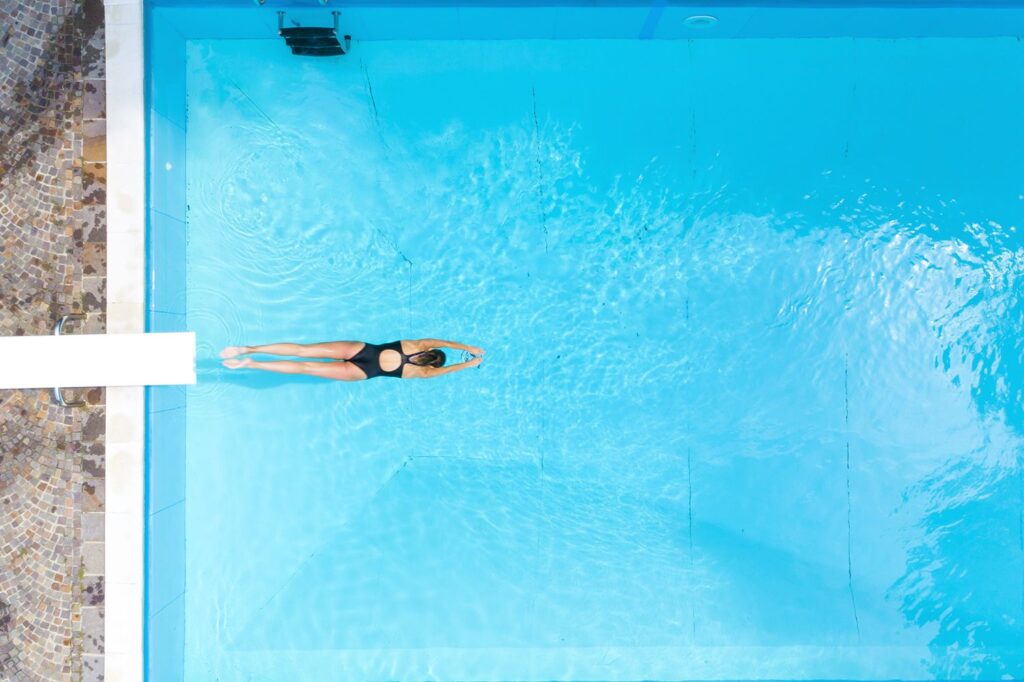 Consistency is key to losing weight and staying fit for a long time afterward. If you only exercise from time to time, you shouldn't expect to see any incredible changes very quickly. Try swimming at least 5-6 days a week and keep on updating your routine as time goes by. Again, start slow, and don't overdo it until you feel comfortable with the exercises. Once it becomes too easy, it's time to switch things up a notch. Modify your regular routine by stepping out of your comfort zone, thus activating all of your muscle groups during your workouts.
The bottom line.
Your swimming pool can be an excellent replacement for those tedious hours at the gym. As long as you stay consistent, practice proper safety, and utilize the right exercise tools, you'll quickly see some incredible results. Of course, don't forget to make other necessary changes to your lifestyle, including your diet and overall activity.
Overall, aquatic exercises can help you reach your weight-loss goals quickly and seamlessly, so remember to give it a shot! We wish you good luck and we hope you found our tips to be useful.