Looking for the best exercise bike to lose weight?  You've come to the right place!
The idea of having a stationary bike at home is to keep going with your workout routine even when you are feeling lazy to go to the gym. Cycling is a great full-body workout. But you can't go for a ride anytime you need to for various reasons. Be it pandemic, poor weather, or you might have a busy schedule, no matter what the reason is, an exercise bike will sort you out pretty well.
There are overwhelming types of these bikes out there. Choosing the best exercise bike that suits all your needs can be one heck of a job.
It is where this guide comes in to help you out. We will review the best stationary bikes to lose weight with a few other details that you need to bear in mind when buying.
Top-Rated Exercise Bike Comparison Table
| IMAGE | NAME | TYPE | W. CAPACITY | R. LEVELS | |
| --- | --- | --- | --- | --- | --- |
| | Marcy Recumbent Exercise Bike with Resistance ME-709 | Recumbent | 300 lbs | 8 | |
| | Schwinn 270 Recumbent Bike | Recumbent | 300 lbs | 25 | |
| | Schwinn 170 Upright Bike | Upright | 300 lbs | 25 | |
| | Sunny Health & Fitness Indoor Bike | Indoor bike | 275 lbs | |   |
| | Schwinn AD7 Airdyne | Fan bike | 350 lbs | Infinite |   |
| | Exerpeutic Gold Foldable Exercise Bike | Folding | 300 lbs | 8 |    |
| | Exerpeutic Folding Magnetic Upright Exercise Bike | Folding | 300 lbs | 8 |    |
| | Exerpeutic ExerWorK 1000 | Folding | 300 lbs | 8 |   |
| | DeskCycle 2 Stationary Mini Exercise Bike | Mini bike | Magnetic | 8 |   |
| | MagneTrainer-ER Mini Exercise Bike Arm | Mini bike | Magnetic | |   |
We are here to assist you with the best home exercise bike reviews. LISS Cardio has poured in months, weeks, days and hours of research into this. We found a number of bikes that you can really rely on.
So read on to find the best exercise bike that will keep your calories under check!
Top 10 Best Exercise Bike To Lose Weight Reviews 2023
Here is a list of our top 10 best exercise bikes to lose weight reviews. We have included different types of stationary bikes so you can choose the one that suits your needs.
The ME709 recumbent stationary bike by Marcy has a step-through design. It features high-quality stainless steel tubing for durability, and there are eight different resistive levels. The LCD screen of this exercise bike has a very easy to read display.
Key feature
The step-through construction of this stationary bike by Marcy makes it very easy to provide you with maximum mobility. You can quickly mount and dismount with less stress on your back and knees. It features high-quality steel with 14-gauge tubing. This tubing has a powder-coated finish for extra durability.
Eight different resistivity levels come with this stationary bike. There are tension knobs that control the difficulty levels for stimulating riding on various terrains. You can conveniently customize your workout according to the intensity that you desire.
The LCD of the computer screen that this stationary bike has is very easy to read. It works as your odometer and features a high-quality panel display. This display contains time distance, speed, and the number of calories burnt. The display numbers are very large for excellent readability.
The recumbent bike comes with a very comfortable seat too. It is heavily padded to allow you to stay on it for a good period without developing any aches. A lot of credit goes to the ergonomic design and HD foam contoured to support your back properly. You can maintain a proper posture when sitting on this exercise bike, as being in good form ensures proper function.
Apart from that, you will also have access to its counterbalanced pedals. The exercise bike comes with weighted pedals that are designed to offer maximum support to your feet. You will be in total control of your workout because the pedals also come with foot straps for the right fit.
✔️ Pros
Easy to use step-through construction.
14-gauge powder-coated stainless steel tubing.
Eight different resistivity levels to customize the workout intensity.
Clear display LCD panel with comprehensive and concise information.
Ergonomically designed fully padded seat.
The weighted pedals come with foot straps for better grip and control.
❌ Cons
Adjustments of foot straps and seats are somewhat difficult.
Schwinn is well known for its high-quality exercise equipment, and this recumbent bike is no different either. It is one of the smarter products out there that can help you develop your workout routine with ease.
Key feature
This exercise bike comes with Bluetooth connectivity, and you can easily connect it with a mobile application. This mobile app from Schwinn will allow you to track your activity and fitness level is a great way. You can also sync it with the RideSocial mobile app, too, and connect with your friends. This app allows you to ride alongside your buddies for fun virtually.
There are 29 different programs and 12 different profiles available with this recumbent bike. Apart from that, there are nine different heart rate controls and a couple of fitness tests as well.
There is a quick start function as well that allows you to start paddling straight away if you don't have much time and want to stick to the basics.
This machine comes with 25 different resistivity levels, and you can easily develop your workout regime with ease. The recumbent bike also features high inertia and a high-speed drive system. It comes with a flywheel that has a weighted perimeter.
Now you can conveniently start and stop your workout in a smooth fashion without any issues. With such a design, your workout will also remain consistent without much difference between the adjustments.
The machine also features high-quality DualTrack Display LCD, console speakers, media shelf, and MP3 input ports. You can listen to your favorite tunes and even connect your phone with the exercise bike to further enhance your workout experience.
✔️ Pros
Easy app syncing and Bluetooth connectivity features.
29 different exercise programs and 12 different profiles.
A quick start setting is also
25 different levels of resistance for various workouts.
High-quality inertia and speed.
Equipped with quality speakers LCD and an MP3 port.
❌ Cons
The heart rate monitor doesn't provide consistent readings.
In search of a good quality upright bike, well, your search is over! This exercise bike from Schwinn is essentially the upright version of their recumbent bike Schwinn 270. It has all the features from that model but features an upright design.
Key feature
This upright bike is highly customizable and portable. You can comfortably make adjustments to the seat along with the armrests. You can carry on with your activity for hours if you want. The ergonomic handlebars also feature heart rate sensors, and the stem also features a water bottle holder.
We have mentioned above that the system of this upright bike has a lot in common with the Schwinn 270 recumbent bike. There are 29 different preset programs and 25 different resistivity levels. You can save four different user profiles in its memory.
If you like all these features but don't have much space available, then don't go for Schwinn 270. Schwinn 170 is the right choice for you as it comes with all the features of the 270 model plus the space-saving convenience.
The frame of this upright bike is also of high quality, and it is designed to last for many years to come. Therefore, the maximum weight capacity of this machine is 300 lbs.
You can conveniently keep track of time and distance covered while having a close look at the number of calories that you have burnt with the high-quality DualTrack display.
Connect your smartphone with a USB port and start using different apps like MyFitnessPal or SchwinnConnect. Use the inbuilt speakers with the help of MP3 input and enjoy your favorite songs during your workouts.
✔️ Pros
Highly portable and customizable design.
Ergonomic handlebars with heart rate sensors.
Adjustable seats and forearm rests.
29 different programs with 25 different resistivity levels.
Max weight capacity of 300 lbs.
Convenient tracking with large display and easy app connectivity.
❌ Cons
The upright design can be cumbersome for people with backache.
If you are an athlete or are preparing yourself for a race, this is a good choice for you. It is the best indoor cycling bike that money can buy. This stationary bike has a very durable construction and features a 49 lbs flywheel for an excellent training and workout session.
Key features
Due to the belt drive system, riding won't make a noise. Most of the indoor bikes don't have this feature, but this one from Sunny has it. You won't disturb anyone around you with your workout and can continue for as long as you want.
This stationary bike boasts a very heavy 49 lbs flywheel. Your paddling will require some serious effort from you, and it will train your muscles in a better way. With its solid construction, the bike is designed to take a maximum user weight of 275 lbs.
Its resistance system will provide you with that real road-like feel. You also have that emergency stopping brake on it if you want to stop it immediately for some reason. You can comfortably make adjustments to the seat height as well as the handlebars according to your preferences.
✔️ Pros
Chrome metal flywheel weighing 49 lbs.
Maximum weight limit of 275 lbs.
Realistic road-like experience enhances your training.
Silent belt drive system.
The seat of this hike is adjustable in four different ways.
The caged pedal style for better grip.
❌ Cons
Suitable for experienced athletes and professionals.
Airdyne bikes are great if you are looking to deal with progressive resistance in your workouts. By progressive fitness, we mean with increased workout intensity, you will get increased resistance.
Key feature
First of all, Airdyne bikes are superb if you are truly looking to build strength and stamina apart from losing weight. If you focus on building strength and muscle endurance, then you will have better chances of weight loss.
With more muscle movements, that fat over that muscle will go away. And the best part is if you want to increase the level of resistance, you just need to start paddling faster. With quicker paddling, you will face more resistance.
It is a good choice for CrossFit trainers and likes. There are no limits when it comes to resistance levels. The bike itself features a single-stage belt drive system, and you can keep working on it without making any noise.
As there is no resistance level in it, the stationary bike does feature different target programs as well as interval programs. Heart rate information is displayed so that you can notice how much effort you are putting in and how your body is reacting to it.
The bike also comes with a weighted fan instead of a flywheel. It will keep the function of this bike smoother and effortless to start and stop at will. It is optimized for silent operation while keeping the resistance high with progressive effort. The seat that this bike has is very comfortably adjustable.
✔️ Pros
Unlimited resistance level for a range of different workout goals.
Resistance increases with the amount of effort.
High-quality belt drive system for silent operation.
Target and interval programs.
Easy to start and smooth to ride.
Very comfortable seat.
Arm workout option is also available.
❌ Cons
The arm bars are too far from the seat.
The fan becomes louder, with an increase in RPM.
With height, there are certain things that you need to consider when buying any piece of equipment, let alone an exercise bike. Your body and legs need to be 100% comfortable when using it. This foldable exercise bike caters to tall individuals pretty nicely and comes with a weight capacity of 400 lbs.
Key features
The company has used high quality and durable steel frames for the construction of this bike. Therefore, it is very sturdy and comes with a max weight limit of 400 lbs. Exerpeutic has used a considerably high amount of steel to make this bike very strong and reliable.
This bike comes with a magnetic tension control system with eight different levels. Therefore, you can increase the intensity of your workout and make it increasingly more challenging. For portability, you can conveniently fold this stationary bike to half its size and store it away when not in use.
The seat of this stationary bike is very comfortable, and it comes with plenty of cushioning. Therefore, you can use it for as long as you want without developing any pains. It is equally great for people of different heights from 5 feet to 6 and a half feet.
The folding exercise bike also comes with an LCD that can tell you about the calories that you have burnt, time, speed, and distance. It is also an odometer and can tell you about your current heart rate and pulse.
✔️ Pros
High durability and heavy-duty steel frame containing 20% more metal.
Easily foldable to half its full-opened size.
Max weight capacity of 400 lbs.
Eight different levels of tension control.
Features a large seat cushion for comfort.
❌ Cons
Seating is not very easy to adjust.
The screen can only display one metric at a time.
There is not much difference in outlook and appearance if you compare this foldable bike with the one that we have just reviewed. But it comes with the lesser max weight capacity. It is smaller in size and suits much fewer height ranges as well.
Key features
The weight capacity of this stationary folding bike is 300 lbs, which is still more than most stationary bikes of this type. The comfort level of this bike is still right at the top with the ergonomically designed seat.
The bike does come with a large display that can tell you about various metrics. It can also monitor your pulse rate as well as speed, time, distance, and calories burnt. The bike also has a very space-saving design. You can fold it into half of its full size and can easily sort it away when not in use.
This stationary bike also comes with eight different levels of tension. It means that you can pick the intensity of your workout at any time. The display of the screen may be large, but it only shows one unit at a time. No concise or comprehensive displays are available here.
Most of this stationary bike comes assembled. You will only have to get the paddles and the handlebar ready. Therefore, it won't take too much time for you to get on it and start paddling straight out of the box.
✔️ Pros
Large LCD.
Very comfortable cushioned seating.
Fold into half its original size.
Easy storage and portability.
Eight different resistance levels.
❌ Cons
The screen only shows a single metric at a time.
Its seat is pretty stiff.
The ExerWorK 1000 is the best option when you are too busy to get some time out for your exercise. Why don't you blend the two? You can do all your important desk work while riding a stationary bike. Staying fit and working at the same time has never been this easy.
Key features
This exercise bike features a sliding desktop that you can adjust in three different ways. You can use it to place your laptop. And the good thing is that you can place any sized laptop on it.
Just adjust the sliding top and start using your system. You can tilt it, and adjust it forward/backward as well as up/down. There are three different angle adjustment options available. Five different height adjustments as well.
Apart from that, this sliding desktop also features a drawer, a small LCD screen for all your metrics to display, and armrest as well. The seat of this semi-recumbent bike is easily adjustable and features plenty of cushioning.
The maximum weight capacity of this machine is 300 lbs. And it will keep you going with your workouts no matter how tough the schedule gets. However, you need to keep one thing in mind that this machine is not designed for intense workouts.
Of course, you can push yourself all you want, but if you are looking for a machine that will get you to losing weight fast, then you need to invest in other types of stationary bikes.
You will never be out of the gym. Even when you are working at home, you can keep those calories ticking down. After all, when you want to shed fat fast, you shouldn't be sitting around idle too often.
✔️ Pros
Best for working people who have very busy schedules.
Keep your calorie count going no matter what.
Weight capacity of 300 lbs.
8 different resistance levels to increase the intensity of your workout.
Very comfortable seat.
❌ Cons
Not the best bike-sitting posture for intense workouts.
ExerWorK 1000 is a good choice for home, but the DeskCycle is also a good choice for office use. If you have been too busy with your work and spend much time sitting around in your office, then this is the right kind of mini exercise bike for you.
Key feature
You don't need much space to start paddling. Just place this portable cycling unit under your desk and get on with it. You can carry on working on your desk like you normally do. Even your work time will become your gym time. Now you don't have any excuse.
Even with a compact design, it comes with a small LCD that will show you the current status of your activity. This exercise cycle can work with low desks as well. The machine features high-quality magnetic resistance, which is quite smooth.
You can also adjust your pedal height according to the height of your desk for better clearance. The mini exercise cycle provides you with eight different levels of resistance. There are only pedals that you can adjust, and they provide you with a pretty good choice to get that desk clearance.
✔️ Pros
Best under the desk exercise bike option.
Carry on with your fitness regime, even at work.
9 to 10 inches of desk clearance with pedal adjustment.
Eight different resistance levels.
Very portable and easy to carry.
❌ Cons
The machine is lightweight, and you might displace it if you start paddling fast.
It is a similar mini exercise bike that we have reviewed above. But it is even more compact in design. It is a lightweight exercise bike, and you can use it to train your arms as well if you want.
Key features
This lightweight commercial-grade stationary cycle allows you to use it on the go. You can even place it on your desk and use it to train your arms. It features a sturdy steel frame that is 15-inch wide. This stationary bike features magnetic resistance that allows you to design your workout regime according to your requirements.
It has a very sturdy steel base, which allows it to be more stable while you are paddling. The Velcro straps that these pedals have provided a good grip, and your feet will remain in place no matter how fast you go.
The electronic display runs on an AA battery. The display shows several metrics, including speeds, time, and distance, as well as how many calories you have burnt. See more detail here…
✔️ Pros
Very compact design.
Good for legs as well as arms.
Electronic display shows various units.
Excellent to use under your desk.
Lightweight construction.
❌ Cons
Sticky pads don't work for long.
Why choose an exercise bike?
If you are planning to shed some weight for the coming summer, you will need an exercise bike for sure. It is a piece of equipment that mimics the motions of cycling, and cycling is a great full-body workout. If you have to deal with a very busy schedule and don't have time to go to the gym, then an exercise bike will work for you.
You can easily maintain a proper work-life balance and take care of yourself with Schwinn exercise bikes. These exercise bikes come with different resistance levels, and you can use them to intensify your workouts according to your goals. For great deals on Schwinn fitness products, you can check out the offers on their website.
Most of them come with smart sensors and numerous connectivity features. You can easily connect your smartphone with them and get all the data on your fingertips.
Which type of exercise bike is right for you?
There are different types of exercise bikes available. Choosing the right one will allow you to achieve your weight loss goals better and will prevent you from overspending.
Recumbent exercise bike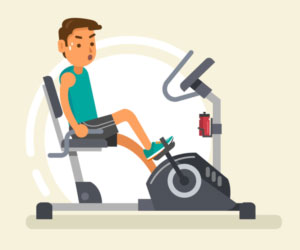 It is the best exercise bike for all purposes. If you are true to your goals, then a recumbent bike is best for you.
It provides you with a more couch-like sitting position with a lot more focus on comfort.
There are very advanced models of these bikes available with all the bells and whistles featuring connective and smart features.
Upright stationary bike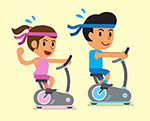 If space is your concern, then an upright bike will be a better choice for you.
With this bike, you have to sit in a more upright position, as you do on a regular bicycle.
These bikes focus less on comfort and more on the posture.
Folding exercise bike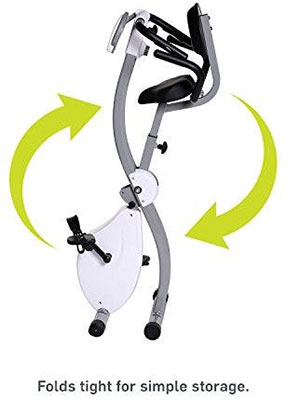 These exercise bikes also have an upright design except the fact that you can fold them to half of their original size.
If storage and portability are your concern, then this is the best stationary bike for you.
Indoor stationary bike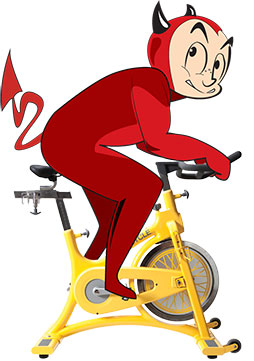 If you are planning to be super fit or are going for a race, then this is the best home exercise bike for you.
It is designed to enable you to sit in a forwardly inclined position just like the athletes do.
These bikes come with a significant amount of resistance to provide you with that road-like feel.
Mini exercise bike
For those of you who have a very busy schedule at work or those who can't leave their desks due to work, this mini stationary bike is superb.
You can place these machines under your desk and start paddles while seated on your office chair.
Carry on working and losing your fat at the same time.
Important Things to Consider Before Buying an Exercise Bike
What should you look for when buying an exercise bike to lose weight?
Here are some important points that you need to keep in mind before buying the best stationary bike to meet your weight-loss aims.
Display
The size of the display is not going to impact the results of your workout. But you should certainly know what you have achieved after a day's session. If you can see the screen and read all the information on it, it will be a huge convenience.
Some smart connectivity exercise bikes also feature virtual tours of different places to give you a feel of cycling in the outdoors.
Adjustable Seat
Besides you, if somebody else is going to use the exercise bike as well, then you will need seat adjustability. It will especially be the case if there is a lot of height difference between the users. help you on how to get a jiggly butt.
Make sure that you can easily make adjustments to the seat without any external help to avoid any inconvenience.
Flywheel
Flywheels are great to store rotational energy, and they keep it consistent. With more weight of a flywheel, an exercise cycle is going to work better. The paddling motions will be a lot smoother too. Go for an exercise cycle that has a nice big and bulky flywheel because, with more area, the flywheel can store more rotational energy.
Chain Drive vs. Belt Drive
As the name goes, chain drive systems feature a chain made of metals and alloys, while a belt drive system features a belt plastics, nylons, and synthetics. Both these systems come with their pros and cons. Chain drive systems are a lot more durable as compared to the belt drive systems.
However, a belt drive system works a lot more silently than a chain drive system. Belt drives are becoming more popular, and they are more expensive, too, due to the different blends of materials for better durability.
Direct Resistance vs. Magnetic Resistance
Magnetic resistance is more reliable and less prone to any damages as compared to direct resistance. Chances of wearing out of the materials are a lot more indirect resistance because of too much friction. And with friction, there is an overheating problem as well.
In magnetic resistance, there is no chance of any friction because there are no surfaces in contact with each other. And because there is no loss of energy, the resistivity remains consistent too.
Time to Make Your Choice
Overall, the winner of this best exercise bike roundup is the Marcy Recumbent Stationary Bike. This exercise bike is built to last with its high-quality steel tube frame construction. The seat is extremely comfortable and is very easy to adjust. The display is crystal clear and exhibits all the information that you need about your current body status. It also comes with several sensors and connectivity options.
So which one of these exercise bikes are you considering for your weight loss?
Do you have any queries or suggestions for us?
Leave your comments below, and we'll get back to you in a jiffy.