Qigong is a form of meditation practiced by the ancient Chinese for self-healing. It is a healing practice that involves controlling the breath, moving gently, and meditating, which helps promote mental, spiritual, and physical health.
Best Qigong teachers help the students practice qigong meditation, which provides various health benefits like controlling blood pressure, diabetes, heart diseases, chronic fatigue, and neck and back pain.
Qigong Meditation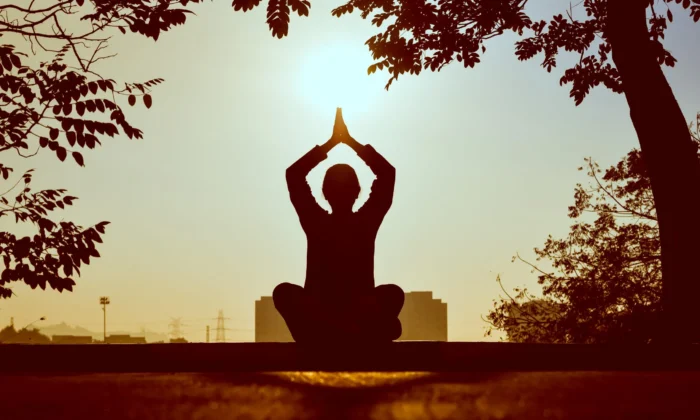 Qigong is pronounced as chee-gong. It is an ancient Chinese meditation for healing that combines controlling breathing and meditation with gentle body movement.
It helps in mastering the body's liveliness and combines two beliefs of Chinese medicine. Qi means elemental force for life, and gong means raising the ability. Meditation helps boost the human body's ability to promote intellectual, good physique, and spiritual health.
Due to the blocked energy in the human body, it develops poor health. But this type of meditation promotes the health of a human by allowing qi to flow throughout the body.
It is a popular form of meditation in China. Due to its various advantages, it gets adopted as an exercise, relaxation technique, preventive medicine, and other reasonable factors that helped it spread worldwide. Also, it gets used in martial arts training.
The Dantian
Dantian or dan tian is a common term in qigong. If translated from the Chinese language, it means the field of elixir. These are the energy centers of the human body, believed to be the leading life force energy. It is related to a higher level of consciousness in the human body.
Different dantian present in the human body relates to different types of energy present in the body. The lower dantian energy level is available in the lower abdomen, nearer to the navel area, and is considered the most important.
It stores the qi along with sexual energy called jing. If a practitioner refers to dantian without a specific name, it is related to lower dantian. The jing energy in the body flows downwards towards the earth and is related to the physical sexual vibrance associated with yin energy.
In the human body heart level , the middle dantian gets located. It stores qi, associated with respiration and the robustness of internal organs, providing a healthy balance between yin and yang energy that flows throughout the human body.
Between the eyebrows, the upper dantian gets located. Known as the third eye in some cultures. It stores Shen, also known as the human spirit or the conscious energy. This energy flows upwards to heaven and gets related to the yang.
All different types of dantian are viewed as a reservoir by qigong. Jing, qi, and Shen's energies get used up when dealing with the stress that occurs in everyday life. These reservoirs get refilled by practicing meditation along with the supply of healthy nutrition, breathing, and efficient time spent amid nature.
Qigong Meditation Types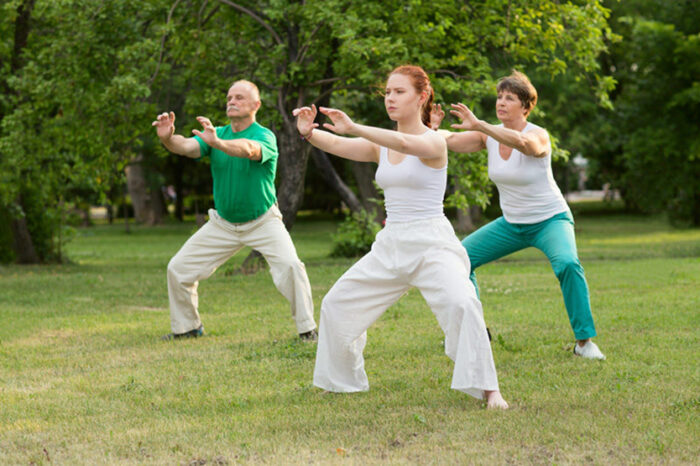 People can practice qigong in many ways, but there are two main types of meditation — active and passive qigong.
Active qigong uses languid, controlled movements. In contrast, passive uses a still nature with very calm breathing.  Qigong can be self-taught or learned from a therapist. If learning from a therapist, they emit qi to promote healing.
Whether learning by self or from a therapist, the goal of practicing is to allow the energy levels to move freely throughout the human body and reunite with mother earth for healing.
Active Qigong
It demands a deliberate, agile motion with breathwork that increases the yang energy in the body. This yang energy portrays a lively energy that is strong and vibrant.
In comparison, it also develops yin energy, which represents unresisting energy that is calm and gentle energy. It includes mild, repeated, coordinated movements that promote blood and lymphatic drainage, balances muscle strength, and increases the body's flexibility and awareness.
It is not the traditional type of yoga. Yoga is an exercise form that concentrates more on straightening and holding different body poses for a few minutes.
Moreover, active qigong focuses on increasing the yang energy and making it flow throughout the body by continuous movement.
Passive Qigong
It increases the yin energy in the body by keeping still, breathing calmly, and cultivating the qi energy mentally.
While practicing this type of qigong, the body will not have any external movement. But the mind will be energetically working, which helps cultivate and move the qi energy upward and downward in the body. It is like a traditional type of meditation.
Embryonic or turtle breathing is an excellent way to go deep into meditation in passive mode. This breathing strategy helps regenerate the mind and body by practicing deep breathing through the lungs. Passive meditation can be done by lying down, standing, or sitting.
Qigong Meditation Benefits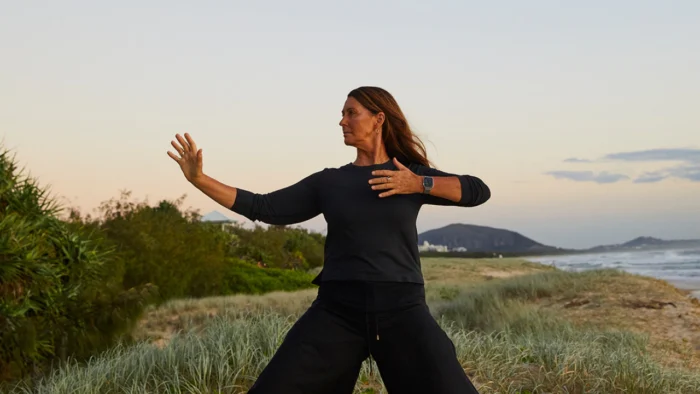 There are many benefits when a person practices qigong meditation. It improves the physical and mental balance, which reduces stress levels. There is a low-level risk of chronic diseases, enhancing the focus. Other benefits include,
All Over Body Balance Is Enhanced
It mainly focuses on slow, controlled movements to enhance muscle sense and increased awareness, balance, body flexibility, and muscle mass.
Impatience And Stress Decrease
Since meditation involves gentle movement and keeping a sense of calmness and control over the breath, it helps reduce anxiety symptoms and decreases stress levels if practiced regularly.
Tips For Training In Quidong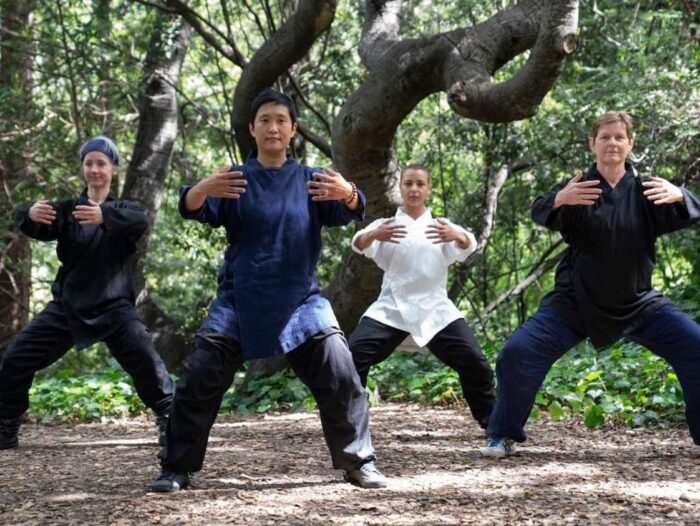 There exist many variations to practicing it. Speaking to professionals before starting any form of exercise routine is essential. Tips for training include,
Training For Passive Qigong
Passive qigong is like a traditional meditation. There exist two types –
Mental focusing, also known as ru jing.
Visualization, also known as cun si.
Mental Focusing
Seat comfortably to practice mental focusing. Keeping eyes closed, breathe in and out profoundly through the stomach.
The focus should be kept on the breath intake and exhale and try to do it for at least ten minutes.
Visualization
Visualization involves practicing with imagination. Keeping the eyes closed and imagining things that could bring joy or induce relaxation to both body and mind helps move positive energy through the entire length and breadth of the body.
If any area or organ requires healing, visualizing this positive energy toward that part will immensely help.
Attend classes under professionals to learn the correct pronunciation of various chants, visualization, and other meditation techniques, which will amplify the energies in the body.
Training For Active Qigong
Active qigong helps keep the spirit constantly in a smooth flow. It is not yoga that focuses on stretches.
It is essential to keep moving through different sequences when practicing active mode. Since it involves many sequences of movements, it is always advisable to start practicing under a professional trainer.
Whether practicing a passive or active form of qigong meditation, it is always essential to have patience and enjoy every moment of practice involved.
Conclusion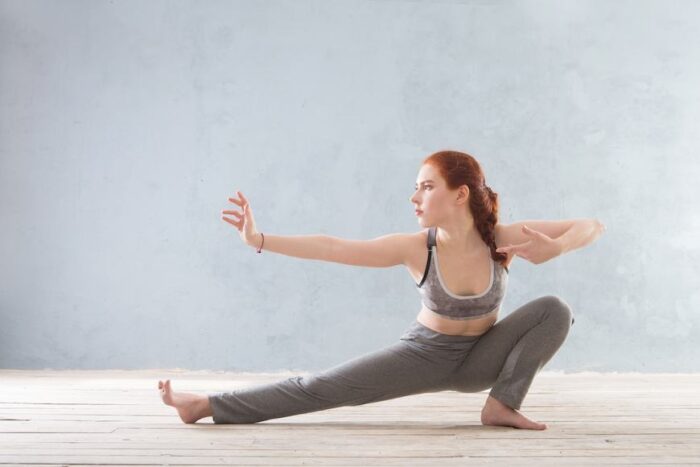 Qigong is a skill achieved by adequately maintaining and cultivating a flow of energy known as qi throughout the body that helps promote good mental and physical health.
Its history spans thousands of years and has been practiced intensely with Chinese medicines. Different styles of meditation involve body movement and controlled breathing techniques, which help focus attention.
Routine practice helps the practitioners to increase their balance and spirit along with the reduction in pain. It makes the mind calm, which helps in experiencing a better quality and long life.