Cycling on a bike has various benefits for our body. Not only does it increase your energy level and boost your stamina, it helps to keep the heart healthy and keeps you away from various diseases. Just as exercise is important for sound physical and mental health, so is the dress that you wear while exercising.
Indoor cycling, more often known as bike spinning is the chosen form of exercise for many people nowadays since it helps to burn more calories and one can easily spin a bike at any time in the convenience of their home irrespective of the weather.
See also: Best Exercise Bike To Lose Weight Review
It is essential to wear the right kind of clothing to optimize your workout. After a spinning class, you feel exhausted and sweat fills the entire body, so the fabric that you wear can make a huge difference. Various injuries can be avoided by wearing the right clothing.
Let's have a look at what you need to wear for a spinning class:
Clothes for a spinning class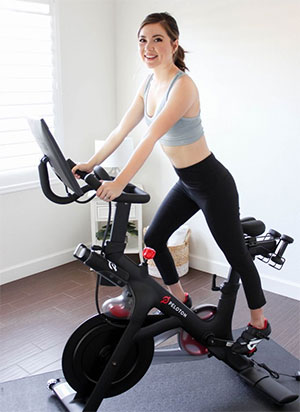 The clothes that you wear should be tight fitting and they should be able to pull the sweat away from your body.
Wicking: The fabric of your clothes should be such that it helps you to breathe and pulls the sweat away from your body. There are many fabrics that are available in the market, which wick away the sweat from your skin. You can choose clothes that are made up of polypropylene. The most commonly use fabrics for workout clothes are Supplex and Coolmax. Unlike cotton which absorbs all the sweat and becomes heavy, they don't absorb the sweat. Sweat gets evaporated from the skin and the fabric doesn't become heavy. Avoid any other fabrics that don't breathe.
Choose right fitting clothes: Wear clothes that are well-fitted and comfortable. Your clothing should not come in the way of your exercise or spinning, since this could lead to an injury. There should be no loose ends in the clothes.
Vary your workout clothes according to the changing weather: In the summers, clothes that wick the sweat away from the skin are suitable. In winters, you need to wear a few layers to keep you warm. Once you start sweating, you may remove as many layers as required.
Top: Sleeveless or short-sleeved t-shirts are more suitable than full-sleeved shirts. Women may opt to wear a t-shirt or a well-fitted sports bra. This prevents their upper body from moving.
Bottom: Men should wear shorts or track pants according to the weather. Women may wear tights or shorts so that their clothes don't hand loose. Most people prefer to wear shorts rather than track pants as pants are not as comfortable. Cycling shorts are ideal as these cling to the body and don't obstruct your movement. Nowadays, special bike shorts are available which are padded to provide extra comfort.
Shoes for Cycling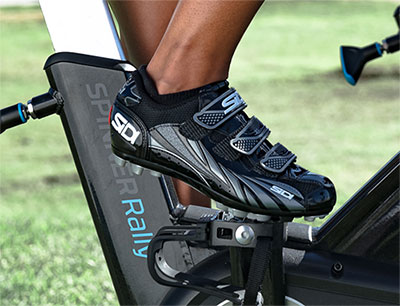 Your shoes are just as important while cycling. If you don't wear good pair of shoes, your feet will hurt and you will not be able to make the most out of your workout.
Although there are various brands that manufacture sports shoes, you can choose that fits your budget. Wearing shoes that are meant for sports will ensure that your feet are comfortable and safe.
Sports shoes are different from formal shoes since they have a hard sole which helps to distribute the weight of your body evenly. You can wear running shoes or cycling shoes to optimize your workout.
Before starting, make sure that your shoe laces are fastened properly. Open laces can get caught while pedaling and cause a serious injury. The extra cushion provided by these shoes makes your feet feel snug.
Accessories for Cycling
Nowadays there are various accessories that are available in the market, which facilitate your spinning class.
These are:
Sweatband – More popularly known as heat band, a sweatband is worn on the head and it prevents hair from falling in the eyes and sweat from dripping on your face. It should not be too tight else it will hurt you.
Socks – Socks help to provide a cushion to your feet and protect them. They also absorb the moisture from your feet. Cotton socks are more suitable as they can stretch and absorb all the extra moisture.
Heart rate monitor – A heart rate monitor tracks the heart rate of the wearer. Instructors recommend wearing a heart rate monitor since they provide you with a targeted heart rate for different parts of your spinning class. Heart rate monitors may also have some additional features such as pace, calories burned and distance covered.
Cycling gloves – Cycling gloves absorb the moisture and sweat from your hands and help you to get a good grip on the handle bars. These are most beneficial for those who sweat a lot.
All the items mentioned above help to increase the comfort of the rider and give an optimized spinning experience. The rider can simply concentrate on the workout without worrying about what they're wearing.
You can get them at any departmental store that deals in sports goods and you can also order them online. There are various websites which will be able to provide clothes for your spinning class, and you can also find a good variety online.
Now that you know all the essentials of a spinning class, let's get started! Just carry a bottle of water with you to keep you hydrated and a towel to wipe away all the sweat.