Congratulations mommy-to-be!
You've successfully made it to the last trimester of your pregnancy. The third trimester is a time for excitement and adjustment as you prepare for the newborn. You're busy child-proofing your house, and the shopping spree doesn't seem to end—what a joyous moment.
But have you noticed that controlling your bladder is becoming challenging by the day? And what about those aches and pains? Well, no trimester is easy.
Take heart because all the discomfort will be worth it when you finally get to hold your little one in your arms.
However, that doesn't mean you keep bearing the pain. Luckily, including some practical exercises in your routine can help you feel better.
Before we move to the exercises, let's look at a few benefits of flexing muscles during this trimester:
Benefits of Exercising During the Last Trimester: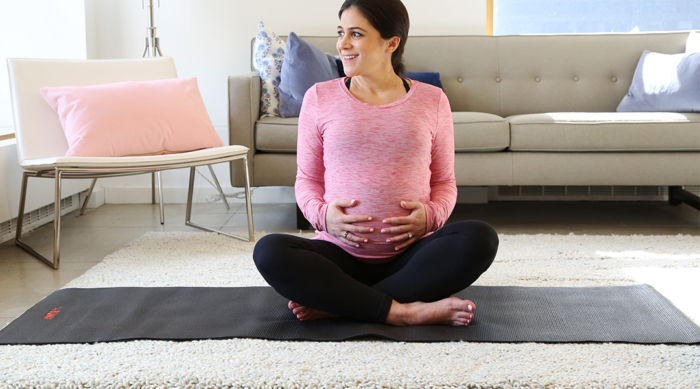 Some women spend their last few weeks munching snacks in front of the TV, but that doesn't have to be the case. Exercising can help you stay fit and healthy during this trimester. Plus, the health benefits are plenty.
Improved Blood Circulation: Regular exercising helps you increase your blood circulation, which is necessary for delivering more oxygen to the baby. Plus, it reduces your child's risk of sustaining birth injuries. However, there can be other reasons for birth injuries, like medical negligence. In this case, it's best to get help from a qualified team to file a claim.
Improved Posture: Doing exercises can help you counter the effects of carrying a heavy baby bump and improve your posture as you get larger. It can alleviate backaches, headaches, abdominal pain, and other pregnancy-related discomforts.
Strengthens Muscles: During the last trimester, your body can experience pain and discomfort due to the extra weight. Exercising can help you strengthen your muscles, thus reducing the pain and making it easier for you to carry your baby.
Improves Sleep Quality: The third trimester can leave you exhausted, making it difficult to get quality sleep. Regular exercise can improve your sleep quality and give you more restful nights.
So, without further ado, here are a few expert-picked exercises that are safe and beneficial for the third trimester.
Kegel Exercises:
Kegels are simple yet highly effective exercises to strengthen pelvic floor muscles. During pregnancy, these muscles can weaken due to the increased weight of your growing baby. It results in frequent urination and lack of control.
Kegels can help to reduce this discomfort by strengthening those muscles. All you need to do is slowly squeeze the muscles in your pelvic floor and hold it for 5-10 seconds before releasing. Repeat this at least ten times a day.
Swimming
:
Head to the pool and soak in its calming waters. Swimming is an excellent exercise for pregnant women as it helps to reduce aches and pains, build strength, and improve flexibility. Plus, it's gentle on your body and easy on your joints.
Swimming is also excellent for working the entire body. It helps to improve your cardiovascular fitness and safely tones your muscles.
Yoga:
The ancient practice of yoga is highly beneficial for pregnant women. It helps to improve your physical and mental well-being while promoting relaxation and stress relief.
Yoga also assists in breathing exercises and teaches you how to manage labor pain. Moreover, it helps build strength and flexibility, allowing easier movement during delivery.
Some poses, such as Pigeon and Reclining Bound Angle, are particularly beneficial during the third trimester. You can practice them at home or attend a certified prenatal yoga class.
Walking:
This one's pretty simple but no less effective. Walking is the best exercise for pregnant women and can help you maintain your fitness while preparing for childbirth.
It can even prepare your body for labor by strengthening your leg muscles, improving your posture and balance, and increasing circulation.
But do not overdo it; take frequent breaks and always listen to your body. It will help if you wear a supportive belt as your baby bump increases. Also, if there's help available, take someone with you while going for a stroll.
Squats:
Nice and easy lower-body exercises like squats help to build strength and flexibility. It is helpful as it prepares your legs for pushing during labor.
Squats specifically target your glutes and quadratus lumborum (a muscle connecting the lower spine to the top of the hip bone). During pregnancy, it tightens due to increased weight and can cause pain throughout your body.
Squats can help stretch these muscles, reduce tightness, and tone them.
Keep your feet shoulder-width apart to perfect this exercise, and maintain a straight back while lowering down. You can also use a fitness ball for better balance.
Modified Side Planks:
Planks are the perfect option if you're looking to get some core work. Please note that traditional planks aren't recommended during the last trimester. It is because there's a lot of pressure on your belly and lower back. Therefore, a modified plank is the best way to go.
To perform a modified plank:
Lie down on your left side. Then elevate yourself on the left forearm
Make sure your knees, shoulders, and hips are aligned
Now, place your right arm along the side of your body
Hold the position for a few seconds and lower yourself
This plank variation is great for strengthening your abs and obliques without putting too much strain on your body.
V-Sits:
V-sits are another great exercise to do during the last trimester. This exercise helps with your posture and strengthens your abs, lower back, and oblique.
Plus, it helps to alleviate sciatic nerve pain common during pregnancy.
Sit on a BOSU ball or a fitness ball with your feet slightly wider than hip-width apart
Extend your arms in front of you and make sure your back is straight
Now, you'll need to lift the right foot off the floor until your leg is parallel to the floor
Hold for a few comfortable seconds and return to the position
You can repeat the same with your left leg and alternate as many times as possible.
Pelvic Tilts:
Back pain during labor is very common. And it can be quite a hindrance during delivery. Therefore, keeping your lower back muscles toned and strong for the big day is important.
Pelvic tilts can help to alleviate this discomfort. This exercise helps open the pelvic area, allowing for an easier childbirth.
You can perform pelvic tilts while sitting on a chair or on all fours. These gentle movements help tone your lower back muscles and relax and strengthen the pelvic floor. In some cases, they also get your baby in the right position.
List of Exercises You Must Avoid During Pregnancy:
Some exercises should be avoided during pregnancy as they can cause harm to both you and your baby. It is important to keep the following exercises in mind. Rather than doing them, you should opt for the alternatives mentioned above.
Contact sports such as football, basketball, and hockey
High-impact sports such as running, kickboxing, and skiing
Abdominal exercises such as sit-ups and crunches
Heavy lifting using weights or machines
Scuba diving, horseback riding, and other activities that involve risk to your baby
Conclusion:
Exercising during pregnancy is crucial for both the mother's and the child's health. Still, it can be difficult to know what exercises are best, especially in the third trimester. Hopefully, this article has provided guidance on which exercises are safe and beneficial for mommies-to-be in the last few weeks before childbirth. Remember to listen to your body and Dr.'s orders first and foremost – every pregnancy is different! – and happy exercising!