Yoga studios are well in-demand and can be very fruitful if you have a strong business plan. Despite this, running one can be pricey, especially when you're just starting out. If you're not prepared, you might be surprised at the costs, which could make running your new studio overwhelming rather than something rewarding.
If you're interested in understanding some of the costs needed for opening a yoga studio, keep reading. Below you'll find some of the most frequent ones to consider.
Benefits of Opening a Yoga Studio
To some, starting a yoga studio might seem like a wasteful venture, but it's surprisingly quite profitable. Yoga studios are increasingly growing and tend to have a profit margin anywhere from 15% to 25%.
But why are so many drawn to yoga studios? Simply because of the atmosphere and health benefits they provide. Many enjoy the safe space and the community feeling it creates.
There are many benefits to opening a yoga studio. Yoga has been proven to be an effective form of exercise for both the body and mind. It can help people improve their flexibility, balance, and breathing. Additionally, yoga can be a peaceful way to de-stress.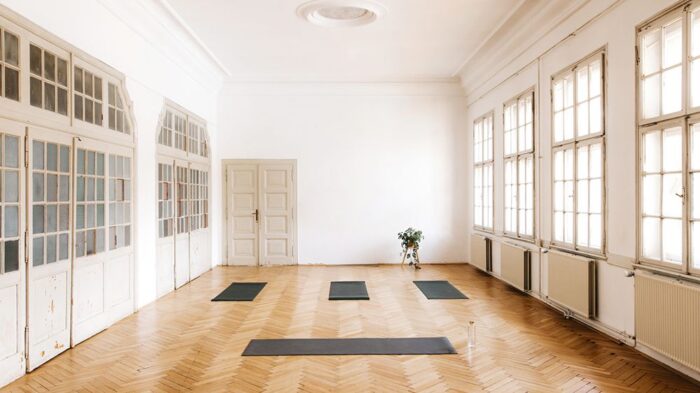 Yoga studios can also offer a variety of classes for people of all levels of experience. There are beginner classes, as well as more challenging classes for those who want to improve their practice. Additionally, most studios offer group classes, which can be great for families or groups of friends.
Opening a yoga studio can be a great way to promote physical and mental health. Not only will people benefit from the workouts, but the studio will also bring in new customers who may not have tried yoga before. In addition, studios that offer group classes can create a sense of community among members. Because of this, if you plan well, you can be sure that your yoga studio will be well attended.
5 Critical Costs of a Yoga Studio
1. Rent or Lease
One of the first things you'll need to set aside for financially is your rent or lease funds. While it might be tempting to choose the first location that you see, look around to make sure it's genuinely what you want. Some locations can be extremely expensive, especially if they're in a prime location. If you're willing to invest in this, make sure you have enough money to do so.
Another thing to consider is whether you want to rent or lease it. Renting is meant for short-term purposes, while leasing is intended for the long-term (usually about a year). Renting might be ideal if you're just starting and want to test things out. However, leasing might be the right call if you're set on a location and know what you want.
Remember, though, that certain property owners might have other fees built into their rental or leasing agreement. For instance, an all-inclusive rental agreement usually means that everything is upfront, while a net lease requires you to pay regular rent plus other building fees.
2. Insurance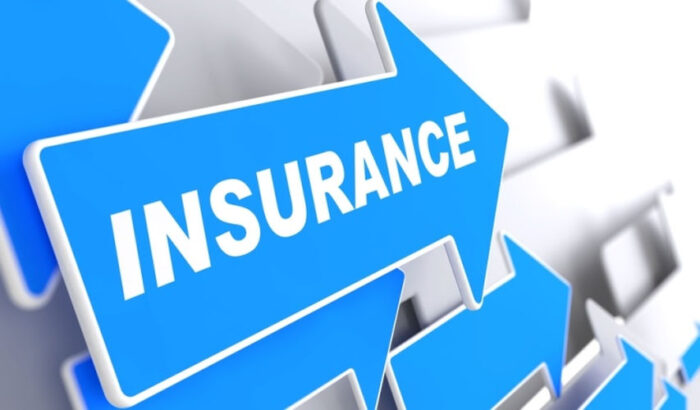 You'll absolutely need to purchase insurance if you plan to open up a yoga studio. Insurance will protect you from serious lawsuits should one of your clients injure themselves. Besides this, if something happens to your studio (like property damage or theft), insurance can help cover those sudden heavy costs.
Surprisingly, insurance can be very affordable, especially if you just want basic coverage. If you still have concerns, contact your local agent, who would be happy to answer any questions you might have. If you prefer to do it yourself, you could also see if there's an online quote available. Here you just need to type in a bit of information (like how many employees you have or plan to have) to get a general idea of what you'll need to pay.
3. Equipment
Yoga might not require extensive equipment, but you still need to purchase mats, balls, wheels, and straps. Apart from these essential tools, you'll need to buy other things, like shelves, lights, and decor. These costs can add up and can be rather pricey if you don't have enough set aside.
If you're concerned about not having enough, consider taking out a loan. Several types are designed to help small businesses, so it's crucial to research them to understand what's best for you. One place to obtain a loan is through your bank. They'll review your financial history to see whether you qualify and then talk through a potential loan that fits your needs.
Besides this, you could apply for a Small Business Administration loan. This is often a much easier route toward getting a loan and tends to have even more benefits like flexible overhead rules and even counseling. However, you do need to meet certain qualifications, such as not already having separate funding and being a for-profit business.
4. Software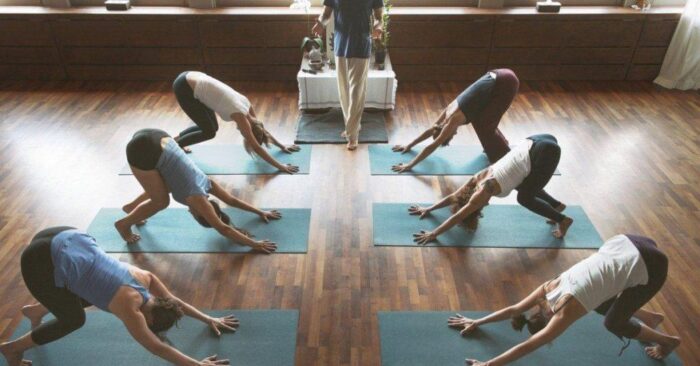 You'll find that certain software will be necessary for your yoga studio. Whether it's for high-tech reference videos, scheduling logs, or accounting files, it's ideal to have some for your company. You might also want to look into a software portal for customers where they can access records, make payments, and sign up for classes.
Software fees will vary based on what you're looking for. Some will be as low as $50, while others will be a few hundred. It just depends on what you're looking for and how intricate you need it to be.
5. Marketing
Advertising your new studio is key if you want to succeed. This will help you reach people while also showing off your brand.
Marketing costs will vary. If you want professional logos and ads, you'll be looking at investing quite a bit. On the other hand, you could begin with a free social media account to get things rolling.
Opening a yoga studio can be very rewarding, but it does come with some hefty costs. The costs associated with opening and running a yoga studio can be high, and the chances of making money from it are slim. However, if you put in the hard work and dedication, there is no reason why your studio can't be a success. In this article, we will look at some of the costs associated with opening a yoga studio and discuss some ways in which you can offset these costs. By keeping the ones above in mind, you can better prepare yourself for what's ahead.