Big arms are a wish of many people since they can make an individual look more attractive. At the same time, the person is getting strong self-esteem and confidence when he is satisfied with his look. However, getting bigger arms is not so easy. You must be ready to invest a lot of time, energy, and patience in order to achieve your goal. Though the path to your achievement you must be focused on your exercise plan, it is quite important to have a nutrition plan as well.
Many people neglect the fact that food can help them a lot in the process of getting their arms bigger and they concentrate only on the exercises they are working on. However, it is very important to eat proper foods in order to promote muscle growth. In case you do not follow an adequate muscle-building diet, you will limit the results that you can get from your training sessions. Your primary goal is to focus on adding more protein to your diet as well as complex carbohydrates and calories. They will help you achieve your arm size goal much faster and healthier.
Proteins will help you build bigger arms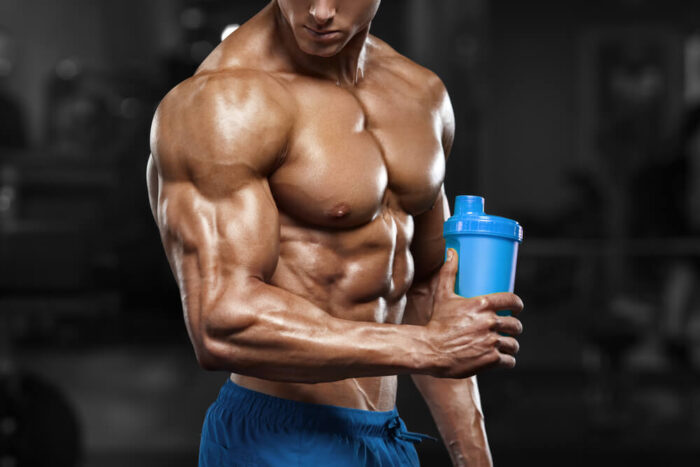 Sports nutritionists are saying that if you want to have bigger arms, you must include lots of proteins in your everyday diet. This is because proteins have a role in promoting muscle growth. Despite that, they are helping your muscles to recover from hard training sessions. For those who do not know, our muscles are growing in the phase of recovery and because of that, it is quite important to provide muscle proteins to ease the overall process. Despite the mentioned, proteins will also help you speed the recovery process which will enable you to work out again and grow muscles even more.
Diet that you should follow for bigger biceps
Because of the things that we mentioned above, you should eat proteins in every meal that you have on a daily basis. You must aim for at least 30 grams of protein per each meal you take. It would be best to try eating at least 1.4 to 1.8 grams of protein daily per pound of your body weight. This is the advice that comes from nutrition experts. If you are wondering what type of food is best for muscle building, you should focus on eating lean meats, fish, dairy products, beans, and eggs.
Add complex carbs to your diet
One more equally important thing that you must add to your diet along with the proteins is carbohydrates. Like the previously mentioned proteins, they will also help you in the process of strengthening training because they have the purpose of fueling the body with energy. It would b best to eat complex carbs according to nutritionists. This refers to eating whole-grain bread, rice as well as oats since they present some of the best foods that will promote muscle gain. Along with eating complex carbs, you should try to avoid eating simple carbs that include sugar and soft drinks. Lastly, it is recommendable to aim for at least half of your daily calories to come from carbohydrates while exercising.
Add appropriate fats to get bigger arms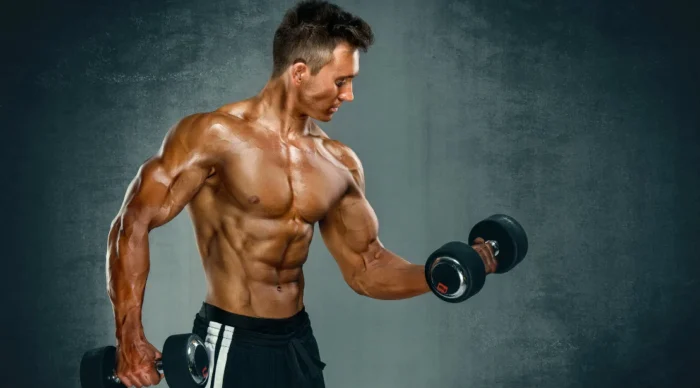 One more thing that you need to pay attention to is including appropriate fats in your everyday diet regime. In general, fats are included in hormone production and it is important to remember that they are having a protein-sparing effect. In other words, this means that your body will use fats for energy first before protein and burn fat which will spare or even save protein for the process of muscle growth and building.
Stick to healthy fats on a daily basis
You are now wondering what good fats represent. Well, if you are ready to include them in your diet, you should stick to olive oil, peanut butter, and fish. Along the way, you should avoid vegetable oils, butter, and animal fats. One more thing worth mentioning is that you need to consume enough fat because otherwise, your body will start using the protein to burn instead of burning fat. According to the experts, it is recommendable that 20 to 35 percent of daily calories come from fat.
Supplements will help muscles grow
Wanted or not, the more you are exercising the more you are going to be surrounded by the supplement topics. For most people, it is very tempting to go and buy everything that is on the market that promises to help get bigger and stronger muscles. However, even though there are so many supplements on the market, there are only some of them that are really going to help you achieve your goal.
Should You Use Protein Supplements?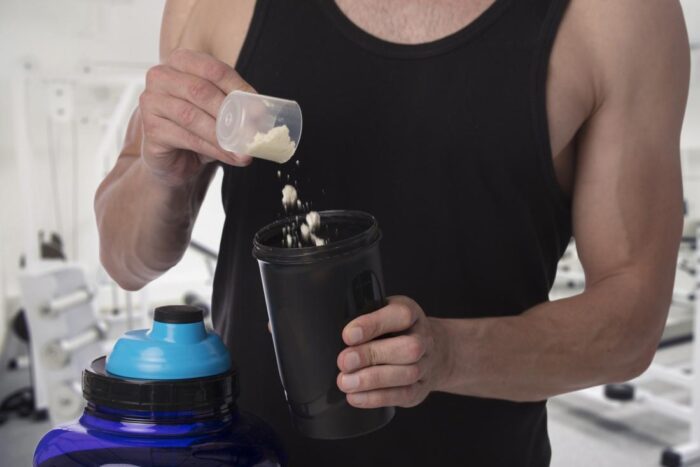 If you never had tried protein supplements, there is a big chance that you are asking whether or not should you start using them. In general, for all those people who are struggling to hit their protein goals, some of the protein bars as well as the protein powders can be a great solution. When people are trying to achieve their desired arm size, there is a big chance that they are eating more food than usual and because of that, they feel full. Because of that, it is easier to get extra protein, you can use shakes since they are easier to digest than protein bars. Logically, they will take up less space in your stomach. You have an option to eat it before or after your workout.
Increase calories
Everyone who is trying to grow their muscles in the arms needs to eat more calories. The body simply needs the extra fuel and calories to achieve the gaining size. Therefore eat more to achieve your goal. It is recommendable to include 500 calories more than needed by increasing calories from protein, fat, and carbs. Without enough calories, your muscle gain will be limited. Lastly, you should eat up to six meals each day in order to gain the required size.
How to design a workout for bigger arms
Well, as we said, both nutrition and exercise are required in order for a person to gain strong and big arms. In this article, we cover the nutrition part and recommend what you should eat. However, if you want to fully achieve your goal, you must design a workout strategy as well. On patriotsupplements.com you can find all the necessary exercises that will tell you how to build bigger arms.