Workout equipment and dressing can boost your mood. Therefore, it is a good thing to invest in these things. Furthermore, you will be able to wear a workout hoodie in other places too. So there is nothing wrong with getting as many as you like.
Although you can wear workout hoodies at home or while going out with friends, they are different from others. You cannot wear other hoodies for a workout because of various reasons. Therefore, it is best to buy the ones that are specially designed for exercising.
The best way to do so is to buy from a brand that creates things, especially for this purpose. For offroad clothing, you can visit offroadvixens.com. They have a lot of cool stuff that you will like. You can buy tops, hoodies, headwear, bottoms and other accessories. All of these things will be available for you at one stop.
And if you are looking forward to suggestions, here is a list that we shortlisted.
1 – Buck Fever unisex pullover hoodie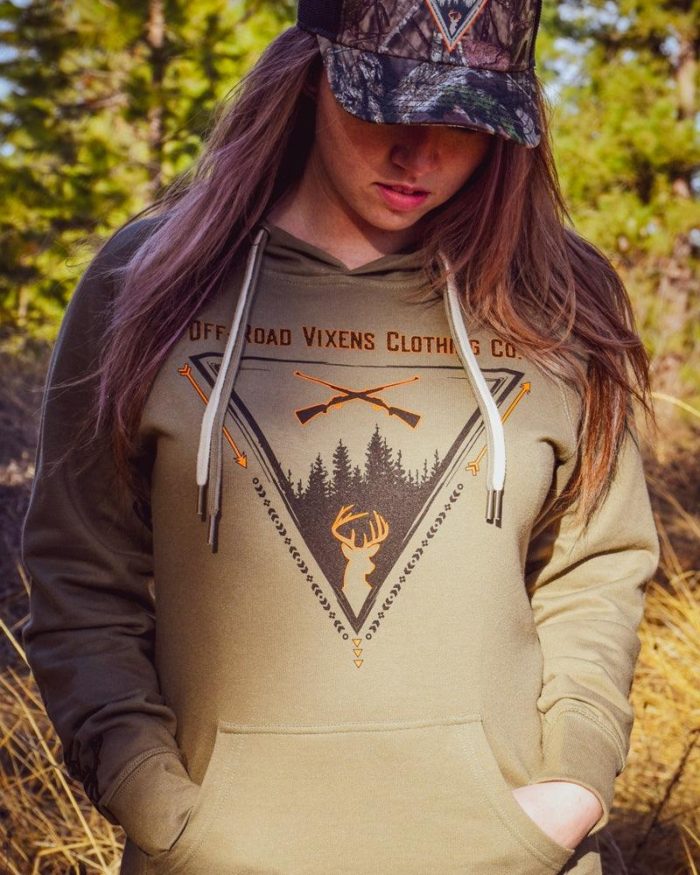 The first item that we have for you is a unisex hoodie with a Buck Fever design. And because it is a unisex design, you won't need to worry about anything. Just make sure to get the right size and you will be ready to rock at your gym. The design really looks cool and interesting and goes well with the hardcore theme.
This hoodie has 55 percent cotton and 45 percent polyester. This combination material is what makes it suitable for gym and workouts. Polyester and cotton are best known for quick drying and absorbing sweat respectively. So you can exercise without getting the hoodie stuck to your body. Furthermore, you can wash it in the machine to get it completely clean from all your sweat.
Furthermore, you will get a wide size option starting from U- extra small and going to UXXX large. But if you have special requirements, you can discuss them too. The best thing about this brand is that you will get the customization option. However, if you are getting a customized order, you will need to wait a little bit more. Furthermore, you won't be able to return your order in this case.
2 – Gesean Men's Novelty sweatshirt hoodie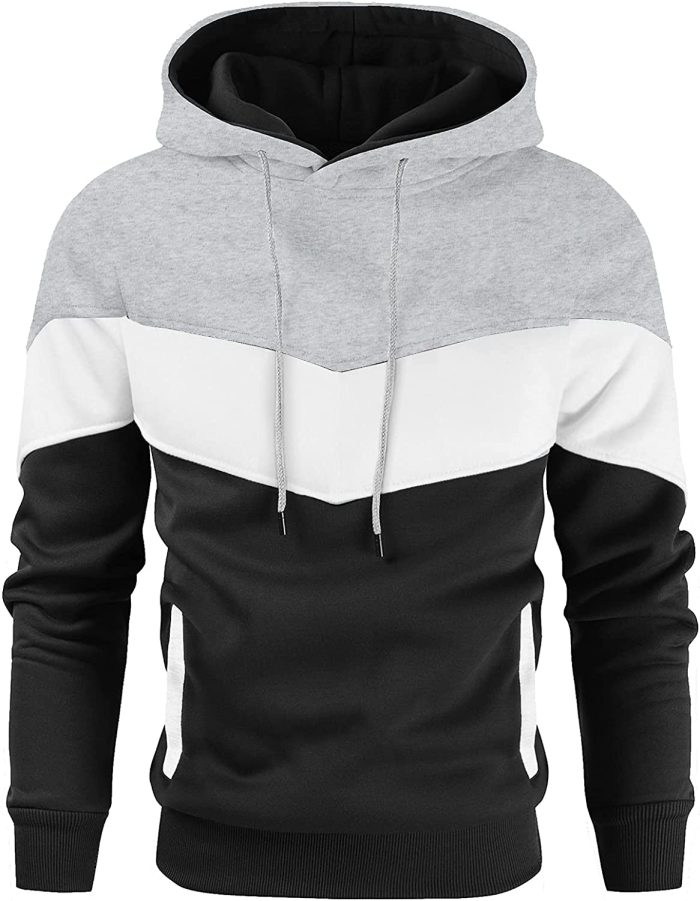 This casual sweatshirt hoodie comes in various color options. So if you like the design, you will have a lot of color options to choose from. The design is really simple and attractive and that is what makes it look cool. Furthermore, it also has kangaroo pockets where you will be able to keep your important things like your mobile phone while you are exercising.
The material that you get here is a mixture of cotton and polyester with fleece lining on the inside. Therefore, it is soft and comfortable to wear and will keep your body warm. This is what makes it comfortable to wear during winters. Furthermore, because of its comfortable material and attractive design, you can use it for everyday wear.
In addition to this, the cuffs and hem are ribbed which will lock the heat to keep your body warm. Thus, the cold air won't get inside. There are also drawstrings that will keep the hoodie on your head. You will get a complete size chart so make sure to check the measurements before placing your order.
3 – Hanes Men's pullover sweatshirt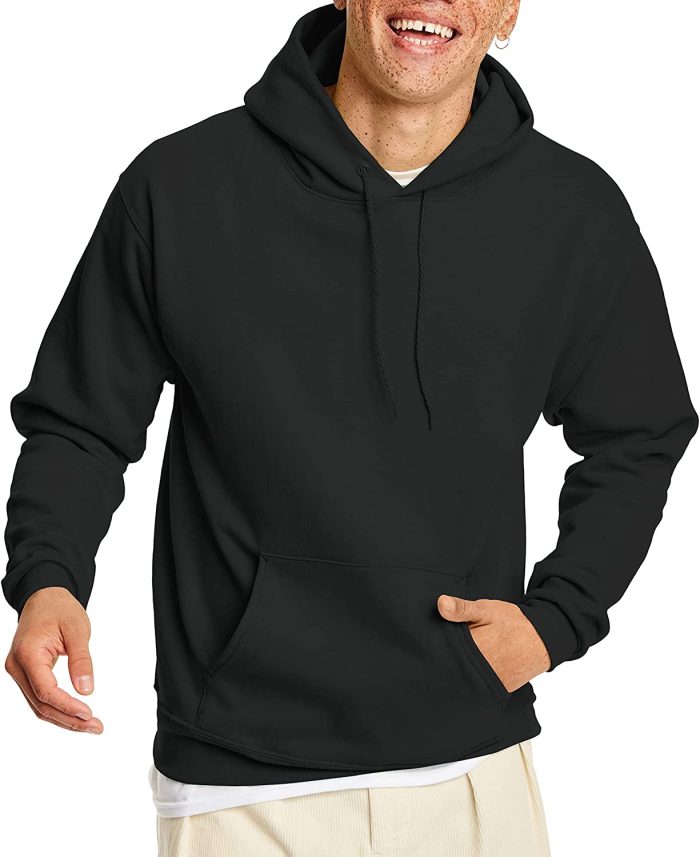 This is a simple hoodie with a plain design. So if you do not want something flashy, this simple design will do. It offers a wide range of color options. So you do not have to stick to black or grey. If you have any color preferences, you can go with that. Furthermore, there is a pull-on closure so you won't get the zipper.
This pullover sweatshirt is made from a mixture of 50 percent cotton and 50 percent polyester. This is what makes it best for a workout. You can sweat as much as you like and this sweatshirt will absorb it all for you. Furthermore, cotton is comfortable to wear and is friendly for the skin too. Therefore, it is best for people with sensitive skin.
There are no special instructions for washing the hoodie. So you can simply throw it in the washing machine and wear it for a long time. But the best thing about this hoodie is the Eco smart collection. 5 percent of the polyester of this sweatshirt comes from recycling plastic bottles. That is why you will be contributing to the environment too.
4 – Amazon essentials Men's tech stretch sleeveless hoodie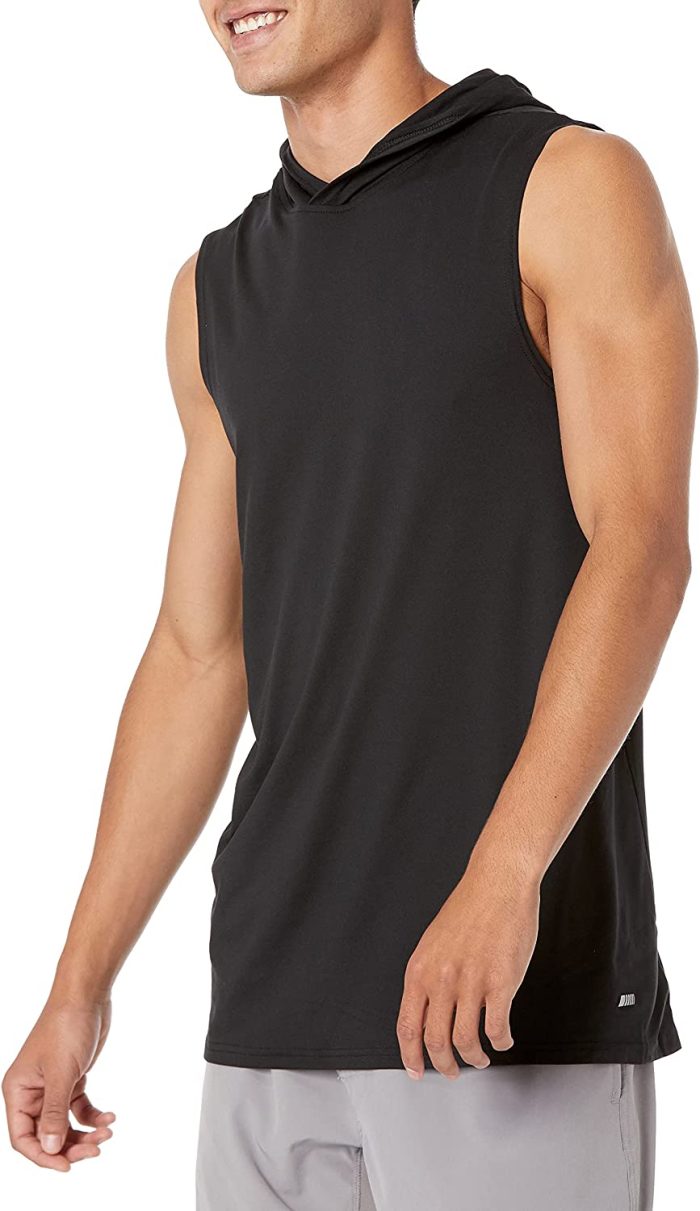 This is something that every gym freak must have in his or her wardrobe. A sleeveless hoodie that makes your biceps and triceps visible. Thus, you will be able to look at your muscular movement while working out. Furthermore, you can show them off to your friends after a workout. Furthermore, it will be airy so you won't feel hot even if you sweat a lot.
In addition to this, you will get 7 different color options. So you can have the one that you like the most or multiple items too. This hoodie is made from 88 percent polyester and 12 percent elastane. So it will dry quickly and can stretch easily. So you can get a smaller size if you are working on reducing your size. It will easily fit for one size difference. Furthermore, it will easily absorb moisture and will also dry quickly.
The polyester material makes the hoodie moisture-wicking and also ultra-soft and lightweight. So you can comfortably wear it and won't even feel its weight. But the only problem with gym wear is sweat and odor. You sweat while exercising so the odor is unavoidable. Therefore, you should buy gym wear that is easy to wash and clean. And this hoodie is just like that. You can simply wash it in the washing machine. It does not require special attention.