Do you know what cryotherapy is? Some of you that know nothing about it may think of SF movies and frozen astronauts during long journeys to distant galaxies. However, this thermo-cosmetic technology is much more down-to-earth than you think. You can find it in many cosmetic centers, where it is used for medical and cosmetic purposes. And what does cryotherapy actually mean and can we really have benefits like muscle relaxation or regulating other conditions in our body – here is the answer.
What Is Cryotherapy And How Is It Performed?
Cryotherapy can be performed as complete or local usage of low temperatures for medical purposes. This technique has been used for centuries. Cryotherapy is, in fact, ice treatment – the coldness which aims to achieve better blood circulation and deep vasodilation. At the same time, the so-called afferent nerves are blocked, which reduces the feeling of pain. This is especially true for fresh injuries or when you want to eliminate muscle spasms.
What Is The Purpose Of Cryotherapy?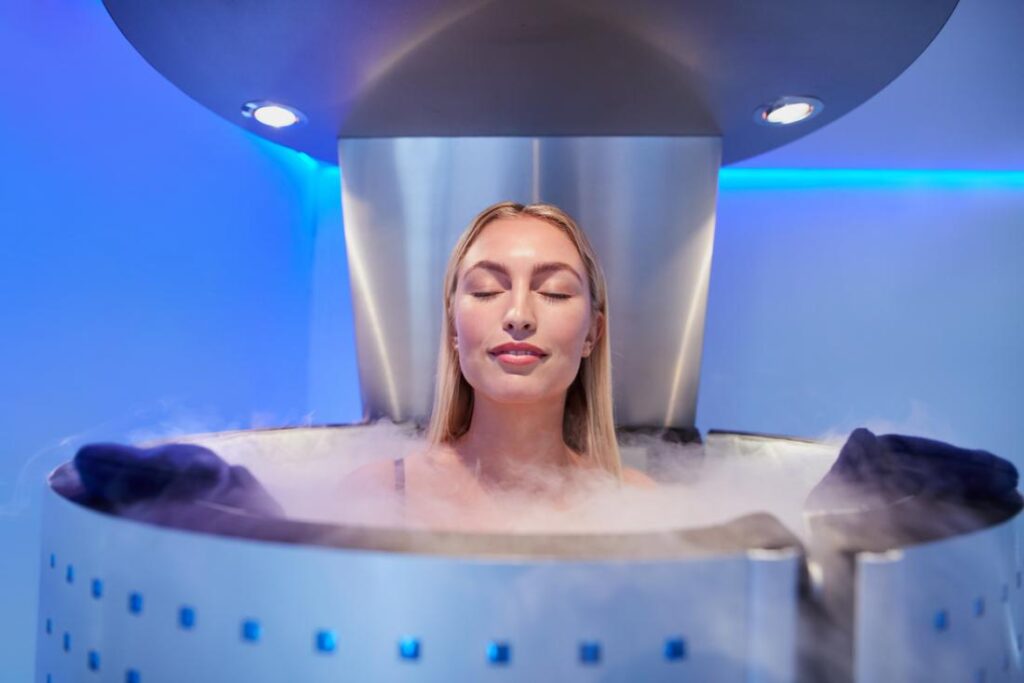 The main goal of cryotherapy is to increase cell growth and the reproduction of cell metabolism. This prolongs the life of the cells, and at the same time reduces pain and spasms – as well as numerous inflammatory processes in the muscles and the body in general. The goal is also to improve our blood circulation, which will automatically have a positive effect on the condition of the muscles
Medical Rehabilitation
Generally speaking, cryotherapy has always been used to treat injuries and chronic health conditions. We have already emphasized that this is a technique that has been applied for centuries. However, with modern technology, it has gained far wider application and better effects. Namely, over time, high-tech cryo-chambers have successfully replaced ice towels, ice baths, and packaged ice, dramatically increasing the effectiveness of treatment – making cryotherapy of the whole body possible.
Cryotherapy Muscle Relaxation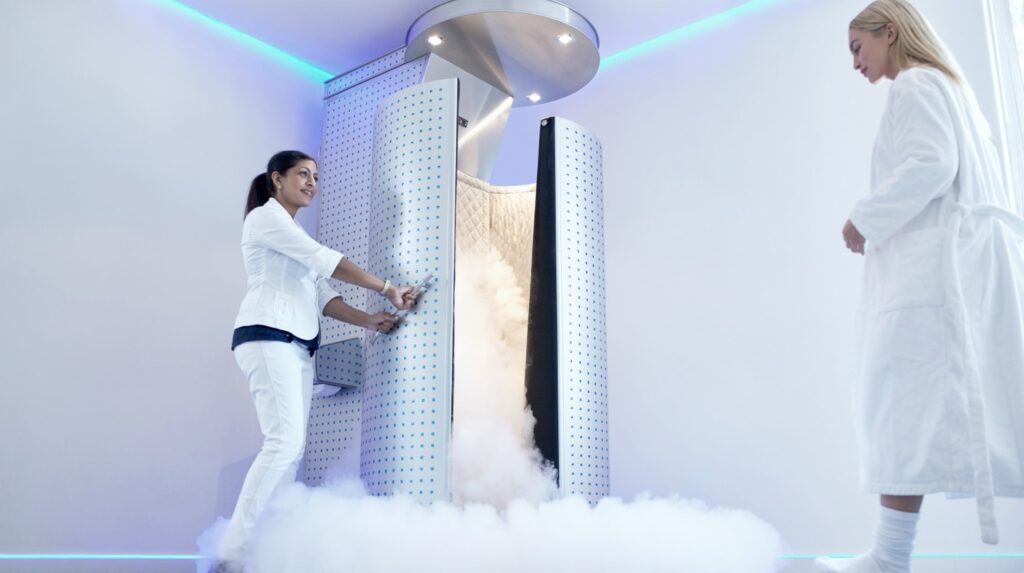 Cryotherapy is one of the most effective ways to recover quickly and efficiently from strenuous training – especially if you play sports professionally. Cryotherapy is widely used today by athletes who put their bodies out with great efforts of muscles – such as tennis players, triathletes, marathoners, rugby players, MMA fighters, etc. Is cryotherapy really that beneficial for our muscles and what are its benefits?
1. Reduces Muscle Pain And Contractions
The effect of using cryotherapy is multiple. According to adriameduae.com, at its most basic level, coldness reduces pain and inflammation, causes muscle contractions, and later their relaxation. It also increases blood flow, and even temporarily alters the physical properties of tissues. Also, a well-performed cryogenic method will have no side effects on healthy people. That's what makes it a safe and effective method in the treatment of sports injuries, or during the rehabilitation period.
2. Prevention Of Painful And Inflammatory Muscle Conditions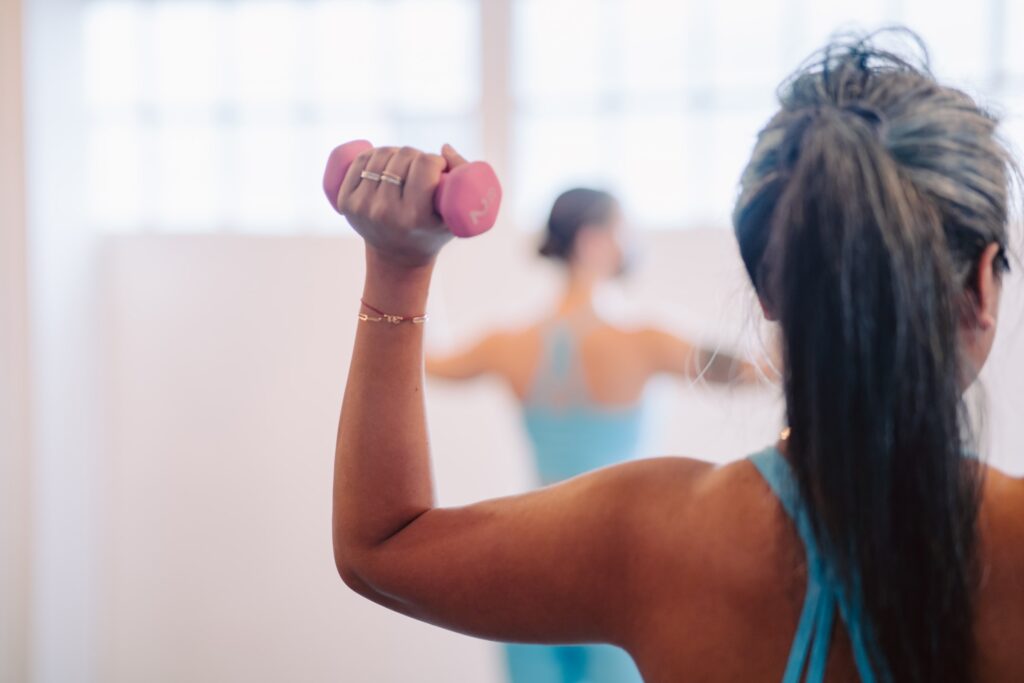 Cryotherapy is often performed for the prevention of painful acute conditions, as well as for the prevention of sports injuries. It is used before physical activity, to reduce pain during exercise. This method has many positive effects on the prevention of your health, such as:
Reducing tissue damage.
Reduces tension in irritated tissue. This method is also suitable as a local anesthetic because it acts against pain.
Inflammation and swelling usually appear after injuries – so cryotherapy works against them.
Spinal pain is usually accompanied by various inflammations. Cryotherapy has a beneficial effect on inflammation and thus reduces pain.
It calms the nerve impulses on the part of the body that is being massaged and in that way interrupts the nerve signals of pain.
3. Helps With Active Injuries
Cryotherapy is also specific in the treatments of active injuries. The main thing about this method is actually tissue cooling. This leads to vasoconstriction and slowing of circulation. This reduces bleeding and prevents the development of hematomas in the area of the injury. Cryotherapy achieves anti edematous, analgesic, and anti-inflammatory effects. You have often seen this on football fields when a football player is injured during a match. Therefore, many teams and their physiotherapists also carry mobile cryo-devices with them. With the help of cryo-therapeutic devices, they assist the injured football player on the spot. This method of therapy does not affect only the muscles – but has a wide area of action when there are injuries and changes in the skin.
4. Relieving Pain Caused By Joint And Muscle Disorders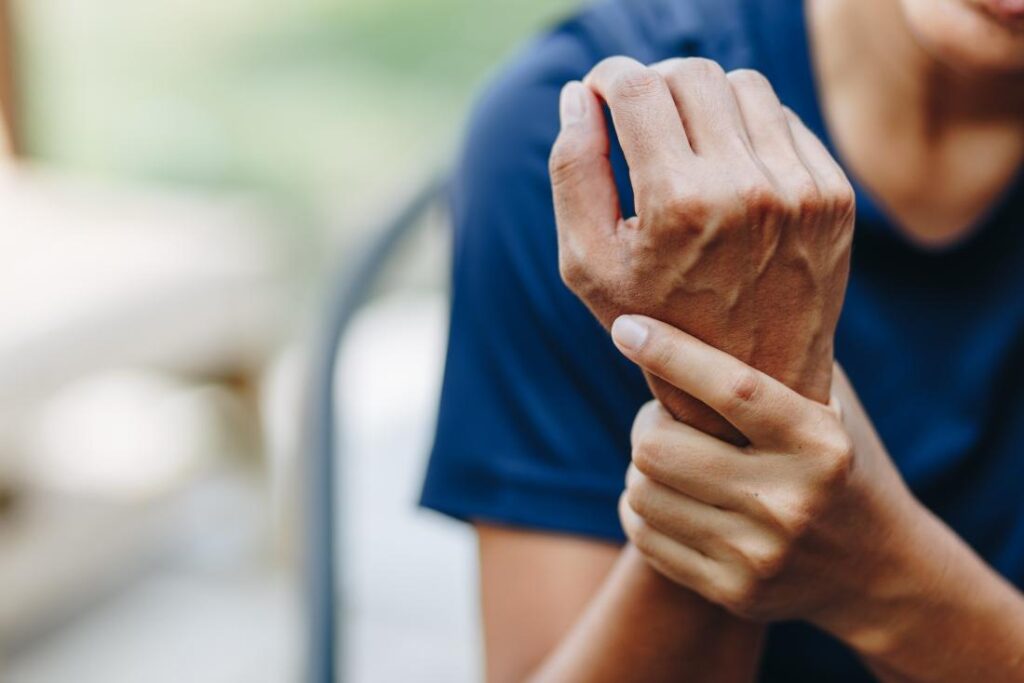 Cryotherapy is a great help not only in inflamed muscles – but also in certain painful conditions caused by disorders in the joints and cartilage. In addition, experts believe that this method helps in faster wound healing, especially in sports injuries that need to be healed quickly. It is believed that cryotherapy improves blood circulation – which as a result promotes wound healing and pain relief. Indications for the use of cryotherapy in such cases are:
Exudative inflammation
Swelling and pain in inflamed joints
Closed injuries
When there is a change in muscle tone in diseases of the central nervous system
Does Cryotherapy Have Contraindications?
Although very good for the body but also for the psyche – cryotherapy is not for everyone. Namely, there are certain categories of patients who are not very suitable candidates for cryotherapy. Contraindications may also occur in certain types of patients. Although this percentage of people is negligible, it is still advisable to be careful. Possible contraindications that may occur due to practicing cryotherapy are:
Diseases of peripheral blood vessels
Sensitivity to cold
Hypersensitivity to any of the agents used in cryotherapy
Previous frostbite at the application site
Sensitivity that is damaged
There are usually no complications during cryotherapy. The therapy is done without anesthesia and is mostly painless. Cryotherapy, however, is not recommended for people with high blood pressure, nor pregnant women.
The Bottom Line
Cryotherapy clearly has numerous benefits for our health. However, regardless of the benefits, we must keep a close eye on possible contraindications that are rare but still may occur. Therefore, cryotherapy is always recommended under the supervision and advice of a doctor or professional staff of the cosmetic or medical practice you visit.